Labia Majora Lift ("LML"), aka "Smile Lift," is a brand new minor surgical procedure designed and brought to market by renowned genital plastic/Cosmetic surgeon, Dr. Michael Goodman. Based on the so-called "double hockey-stick" labia majora incision first described by Polish surgeon Dr. Dawid Serafin, it is an inexpensive, easy-to-recover-from procedure where a horizontal "chevron-shaped" portion of labial skin is removed from the labia on either side to "lift" up "saggy" "older-appearing" labial skin to provide a more "youthful" appearance without producing any unwanted "opening" of the vagina.
The ideal patient to achieve a positive result from her lift is any woman whose outer "lips," her labia majora, has loose skin and tends to "sag," looking deflated and "older." The photos below outline the procedure. By carefully excising a "smile-shaped" segment of labum from near the mid-portion of your labia, designing and closing the procedure in the correct way, the incisions heal well, are almost invisible (see photos), and is permanent, not needing to be repeated. The procedure may be performed by itself under "local" anesthesia, or added to other vulvo-vaginal plastic surgery procedures such as labia minoraplasty and vaginal reconstruction ("Vaginal Rejuvenation.")
Potential incision lines for Lift
Before and only 2 weeks after LML + labia minoraplasty (**the incision line will mostly disappear after ~ 3-4 months postop.)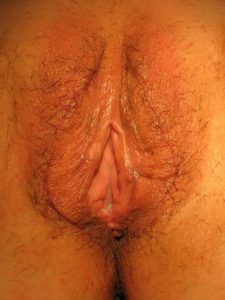 Patient with full labia minoraplasty and labia majoraplasty. Post-op is at 6 weeks. Incision line will become less noticeable in 2-3 months.
Comparison: Labia Majora Lift with regular Labia Majoraplasty and so-called RF (ThermiVa) treatment to correct "Sag."
Often, the "sag" is so intense, along with significant redundancy and "folding" of the majora, to require a full labia majoraplasty with removal of labial skin utilizing a vertical incision (see photo). Many practitioners advertise so-called "non-invasive" procedures utilizing radiofrequency ("RF") energy such as "ThermiVa." These treatments do not involve any incisions, but require 3 separate trips to the doctor's office every 8-10 months, as the RF therapy results lasts well less than a year. The usual cost for this treatment is US$2000-3000. So, after 10 years, you will have paid > $35,000, have to make ~ 40 trips to the doctor's office, and end up exactly the same as when you started. However, if your doctor is not skilled in LML, and all (s)he has is "…a [expensive!] "Machine," then that may be your only choice to "lift" fallen majora…
In our office, we charge $3500 out-the-door for this minor surgical procedure which requires only 2 weeks of modified activities, and is fully healed and almost invisible after 3 months. If added to another genital plastic procedure, the fee is reduced by 50%!
Saggy outer lips (labia majora)? Consider a LML, performed by a surgeon with experience in the procedure, so as to know how much to remove, and the proper anatomic placement for optimal results.