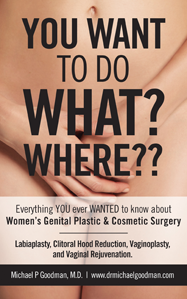 There's such a wide variation of what is considered "normal" when it comes to our bodies, it's no wonder not everyone is satisfied with what they have. With all of the cosmetic "work" that's performed on our neighbors, our friends, our family and ourselves, if we raised our eyebrows at everyone who's been "enhanced," we'd all need a Botox injection!
"Aesthetics" (a more encompassing term for the old "plastic surgery" moniker) have become as much a part of our personal appearance toolkit as combs, brushes and makeup. From breast augmentations and reductions to lifts, nips and tucks, both men and women are embracing these procedures now more than ever.
One of the newest entries in this field is that of vulvo-vaginal aesthetics—a topic that can be understandably touchy. In the first ever published book of its kind, "You Want To Do What, Where?" Dr. Michael Goodman, one of the world's most renowned gynecological plastic surgeon, breaks down everything you ever wanted to know about labial and vaginal reconstructive surgery in a frank and straightforward manner that will set your mind at ease.
From health and psychological issues to the specific procedures available, Dr. Goodman answers any and all questions you may have regarding vaginal reconstructive surgery. If you have ever considered or wondered about this field of aesthetics, this book is for you.
Recent Reviews:
Dr. Goodman has experience in both plastic surgery and ob/gyn and is one of the authorities on this type of surgery. He explains everything very clearly and uses plenty of photos and diagrams. Everything is done very clinically, but be aware that there are some close-up before and after photos.

He covers everything from reasons women choose the procedure to how it's done to aftercare and what could go wrong. He also explains what qualifications a doctor needs to do the procedure well, This book will help you make an informed decision if you are considering this surgery. Worth the investment.
Have been a Gynecologist for 20+ years and was looking for a text book about this particular subject.I found none but this book gave me an objective approach to the topic, it is written in a way that I think it will be useful for both,Medical practitioner and Patients willing to know more about Gynecologic Plastic Surgery. This is NOT a technical manual about how to perform procedures, it is more a manual about how to face the Patient, how to handle her concerns and how to give good info about what she wants and what to expect. What to do before and after the surgery, how to take good care of the area, do s and don't s.

A must read
The Midlife Bible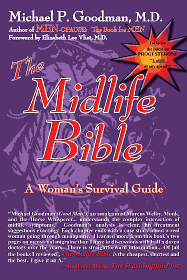 "Michael Goodman (Good Man!), an amalgam of Marcus Welby, Monk, and the Horse Whisperer… understands the complex interaction of midlife symptoms. Goodman's analysis is clear, his treatment suggestions exacting. Each chapter ends with a case study about a real woman going through menopause. I learned more from this book's two pages on menstrual migraine than I have in discussions with half a dozen doctors over the years. There is straightforward information… Of [all the books I reviewed], "The Midlife Bible" is the cheapest, shortest and the best. I give it an "A."   — Stephanie Weiss, The Washington Post
Newly updated, this very useful and eminently readable edition comes from the author's working relationship with "Western Medicine" and alternative approaches and a deep respect for the individual's intelligence, autonomy, and right to fashion her own therapy.
The Midlife Bible- A Woman's Survival Guide is available on Amazon
MEN-opause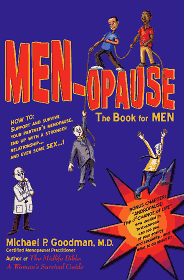 Finally!  A first!  A book on menopause for men!
Author Dr. Michael Goodman shows men how to support and survive their partner's menopause, improve sexual intimacy and end up with a stronger relationship.