---
WARNING: The following text contains explicit information and imagery about female genitalia and related surgical procedures. Do not continue if you do not wish to see these images. These pages should also not be viewed by those persons under the age of 18.
---
Labiaplasty—"Labial Reduction/Beautification" for Large Labia
A woman's labia minora (the lips) of the vulva, which stretch on each side of the vaginal opening from the clitoral hood to the perineum, come in all shapes and sizes. There is a large span of normality in size, ranging from small strands to larger "elephant ears. The fact that something is in the range of normality doesn't mean that you as an individual are comfortable with the size and appearance. Just as the size of your nose or breasts may make you unhappy, the same can be true of your labia.
In many instances, women are born with large labia; others may develop the condition following childbirth or with age. Labiaplasty is surgery to reduce/modify labial size. Women seek labiaplasty consultation for possible revision of the size of their labia for two reasons: functional or aesthetic (or a combination of the two).
Functional reasons for labiaplasty/labial reduction can include discomfort or irritation experienced when wearing tight pants or while engaging in sports such as cycling or other physical activities. Other functional reasons include hygiene difficulties and large lips getting in the way sexually.
Aesthetic (beautification) reasons for labiaplasty, whether with or without reduction of "floppy" hood size, include self-consciousness and self-esteem issues or simply a desire to achieve a better look. Women seeking aesthetic labiaplasty do not wish to see a large protrusion of their hypertrophic hood or labia dangling out from between the outer lips (labia majora.)
There are several different techniques that a physician may use to reduce the labia and their appearance, and a qualified physician will take the time to determine which is most appropriate for your specific situation and goals. All involve reduction and resculpting. The two most popular techniques are Linear Resection and V-wedge. A linear resection involves the use of a straight or arced incision along the outer edge of the labia minora in order to remove excess tissue. This can then be closed with an absorbable, under the skin suture line. The V-wedge resection removes a v-shaped wedge of tissue on the outer edge of the labia. The edges of the incision are then closed together and sutured to maintain a natural looking outer edge. Both techniques, and variations that a specific physician may choose, provide good results with little to no nerve damage as long as they are performed by physicians with considerable skill and experience in the procedure.
Many women requesting labiaplasty surgery also wish to reduce the size of a robust clitoral hood. Occasionally a patient wants hood reduction as a stand-alone procedure, or separation of a hood that has become so fused as to disallow protrusion of the clitoris during arousal. Artistically reducing the hood is the pinnacle of genital plastic expertise.
Below I share just a few of the more than 800 labiaplasties that I have performed. Space limitations prevent me from posting them all. Around 55% are by V- or V-Y Wedge modifications; about 45% by linear/trim. I am totally comfortable with both techniques. I decide which to use on a case-by-case basis. An exceptional genital plastic/cosmetic surgeon is an artist who decides which technique to use based on patient anatomy, thickness or thinness of tissue, shape and position of the hood, color, expected patient ability to rest well during recovery, and of course the patient's outcome desires.
I perform almost 100% of my surgeries in my office surgical suite under local anesthesia, a safer and less invasive method and certainly a cheaper option, though the "asleep-in-the-hospital" option is available for those who find it more comfortable. I perform a 2-to-3-layer closure using fine, monofilament non-inflammatory 5-0 Monocryl underneath and fine, quickly absorbable 5-0 Vicryl Rapide for the skin. I use either individual sutures or a hidden sub-cuticular suture line where possible. No "baseball stitching": instead I use fine surface sutures that dissolve quickly, with the incision held together by the sutures underneath. This leaves no suture marks or rippling for weeks after.


A Personal Note from Dr. Goodman:
How should you decide who to consult, and who should do your surgery? It is important that you do your homework! Look for either a trained plastic or cosmetic Gyn surgeon. You can find them by carefully reviewing websites, looking specifically for genital plastic/cosmetic surgeons who SPECIALIZE and who are very experienced in labiaplasty, vaginal rejuvenation, perineoplasty & vaginoplasty. BE CAREFUL with doctors who tout "minimally invasive" laser or radiofrequency but who are not skilled with surgical options. Look for labiaplasty surgeons who can either PROVE to you that they've taken a specialized course with either myself, Dr. Matlock, Dr. Alinsod, Dr. Halperin, Dr. Ostrzenski, or a surgeon who has performed AT LEAST 50 to 100 cases and can prove this to you by providing you with before and after photos on their site. If they have performed fewer than 20 of these procedures, don't let them operate on you.


FAQ
Who should you STAY AWAY FROM?
While even the best trained female genital cosmetic surgeon can achieve a poor result, virtually all of the "botch jobs" come from Ob-Gyns who have not been properly trained and who do not have the needed experience for this procedure. Fine and meticulous plastic technique is not taught in Ob-Gyn residency training programs, and neither is aesthetic labiaplasty or vaginal tightening for sexual improvement reasons. The only thing that an untrained Ob-Gyn is likely to know about labial surgery is "cutting them off." They have virtually no idea how to aesthetically trim and sculpt the clitoral hood. Additionally, while general Ob-Gyns know how to repair the vagina for defecation difficulties (called a "posterior repair"), this procedure WILL NOT tighten the vagina for any length of time, nor will it produce the "before-I-had-babies look" of the opening that many women are looking for with vaginal rejuvenation. I participate in a large number of medical legal reviews of malpractice cases involving labiaplasties. Every one of these mutilations has been performed by general Ob-Gyns.
THE FIRST SURGERY IS THE ONLY CHANCE YOU HAVE TO GET IT RIGHT. While revisions of "botched" or "mutilated" labiaplasties can be performed by premier genital plastic surgeons such as myself, revisions frequently cost much more than would have been the case had the original surgery been performed by the right surgeon in the first place.
Please do not hesitate to contact our office for any questions. Dr. Goodman offers free consultations about these procedures, generally lasting 5-10 minutes. For information specific to you and your wishes and anatomy, a personal in-person or telephone consultation (with photos) should be booked.
Before                                                            After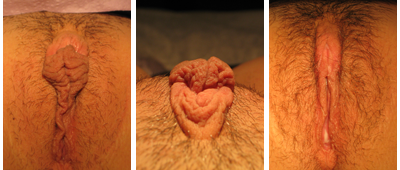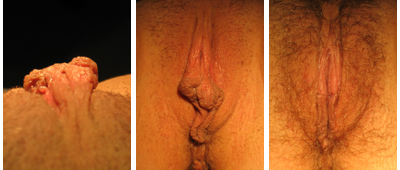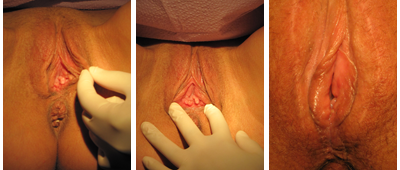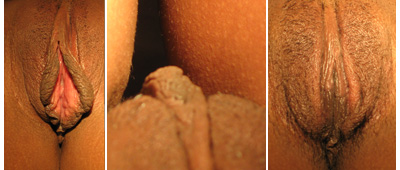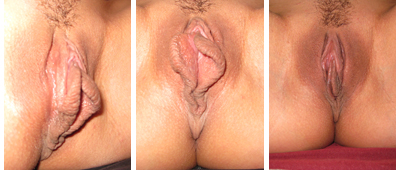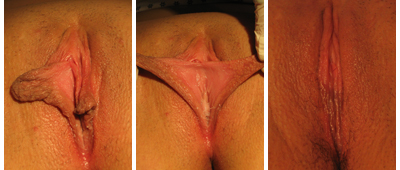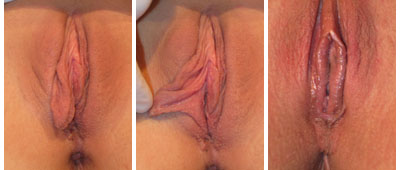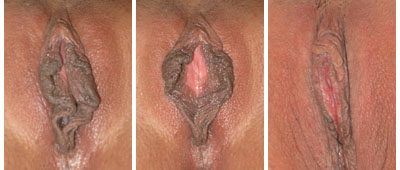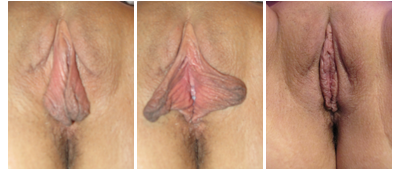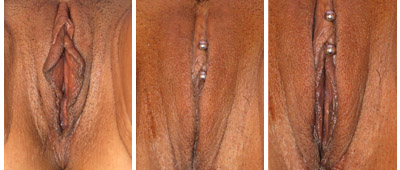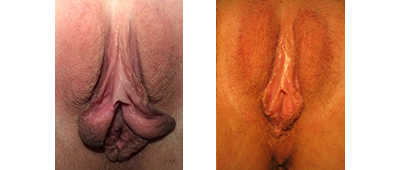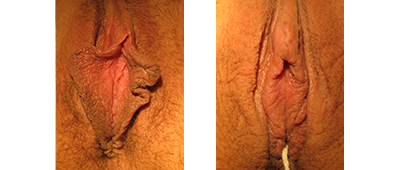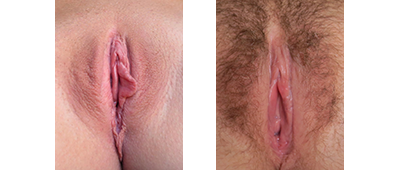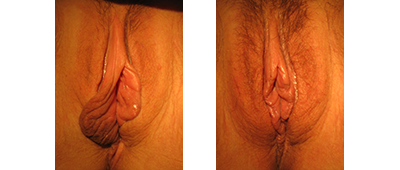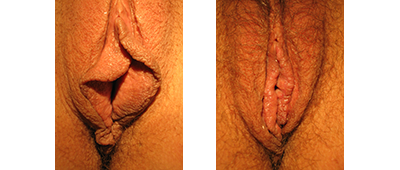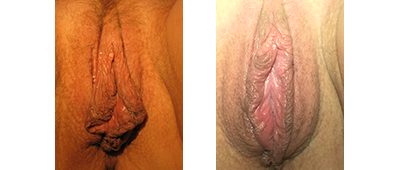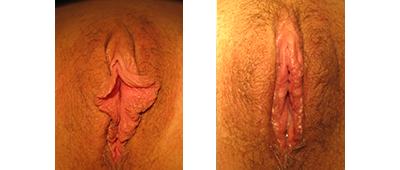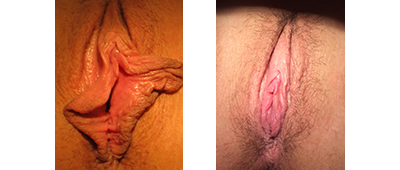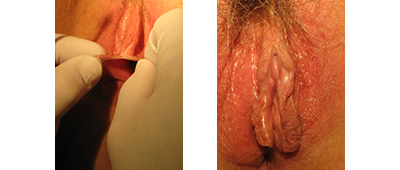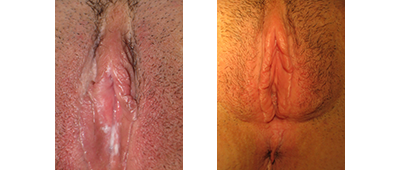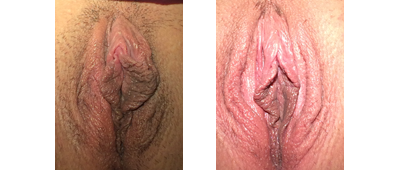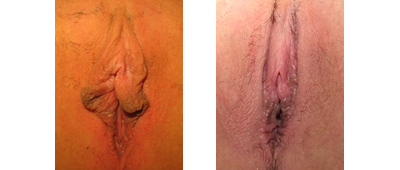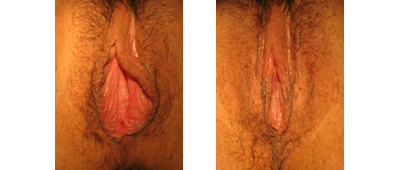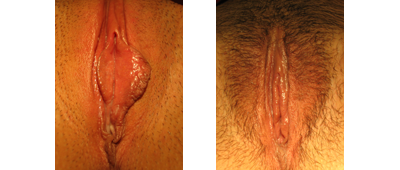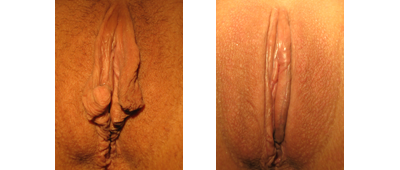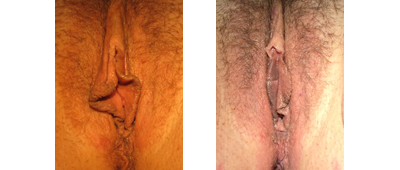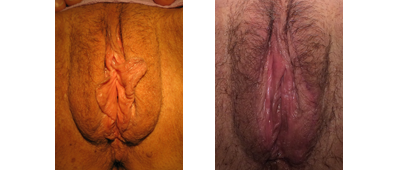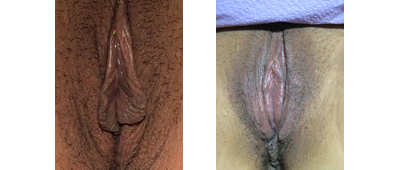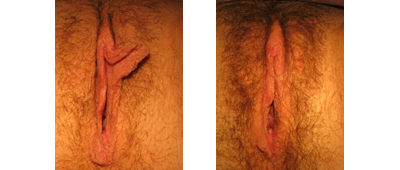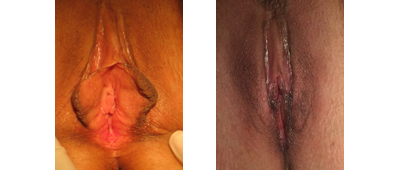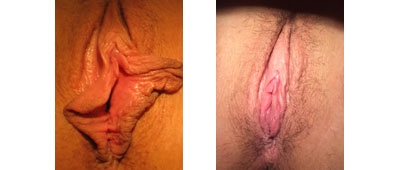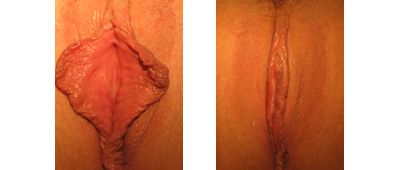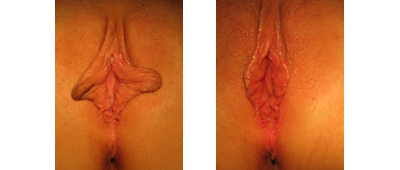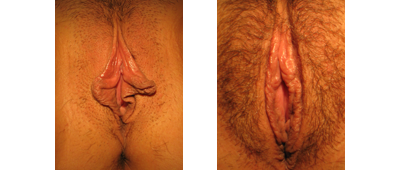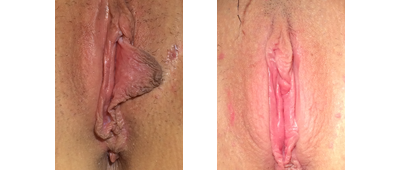 1-sided Labiaplasty