The following are comments from a few of Dr. Goodman's patients about their experiences. Names have either been omitted or shortened for patient confidentiality. You can also view online patient reviews via Dr. Goodman's RealSelf profile.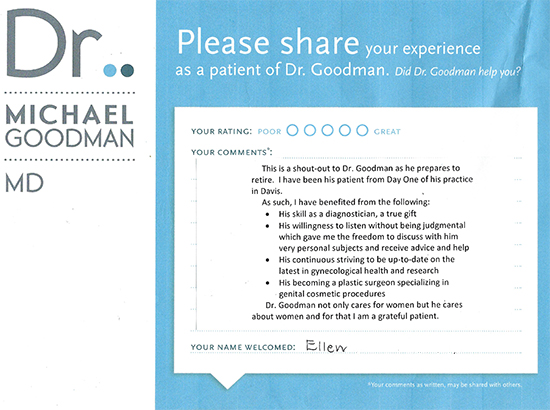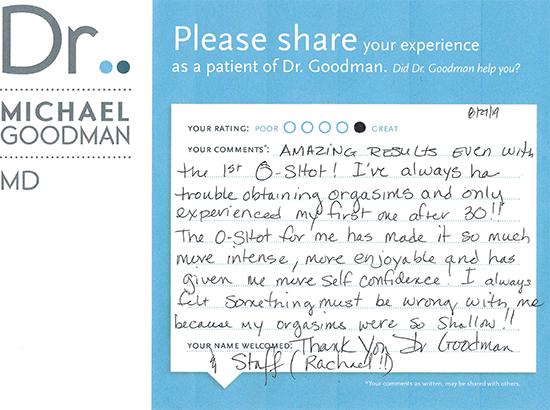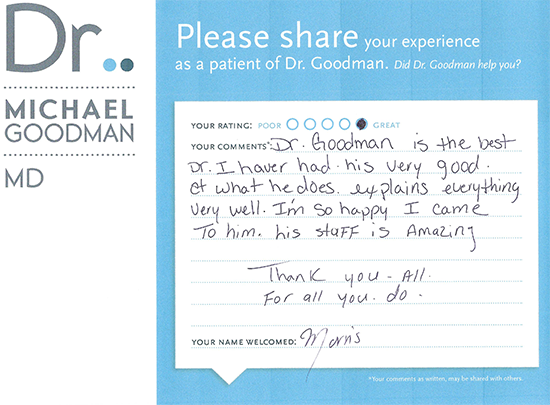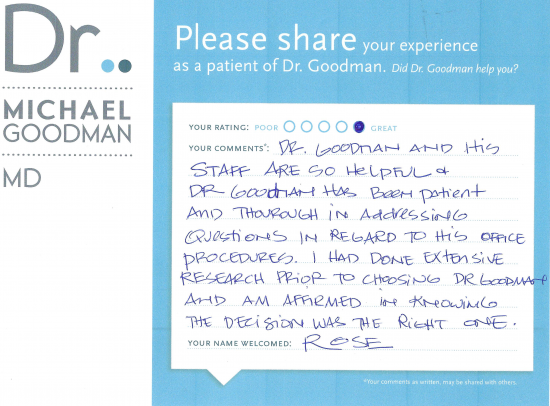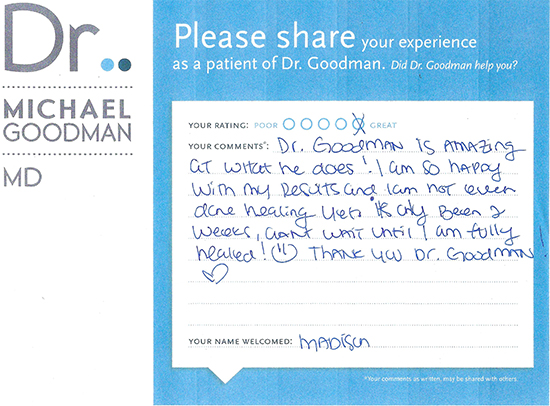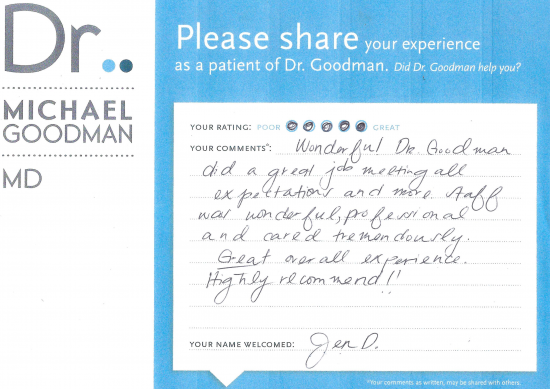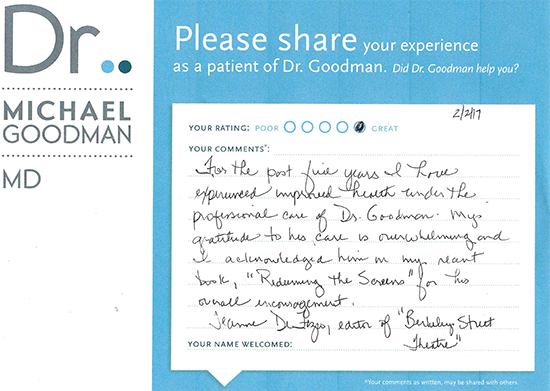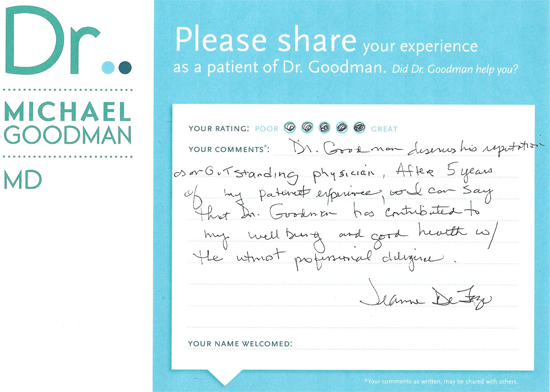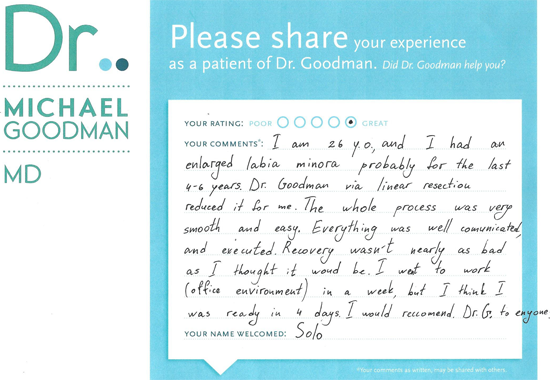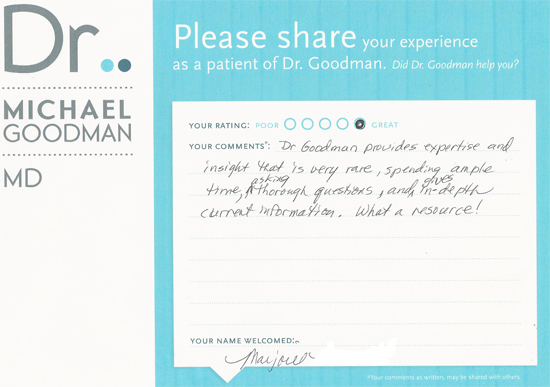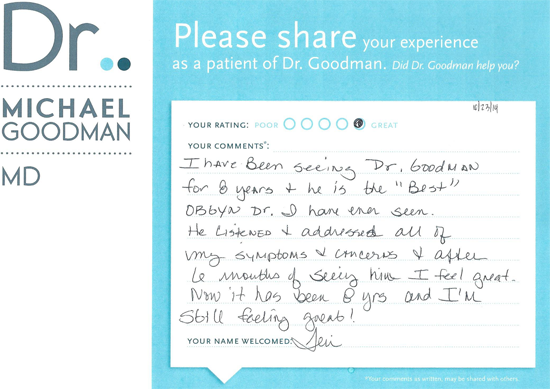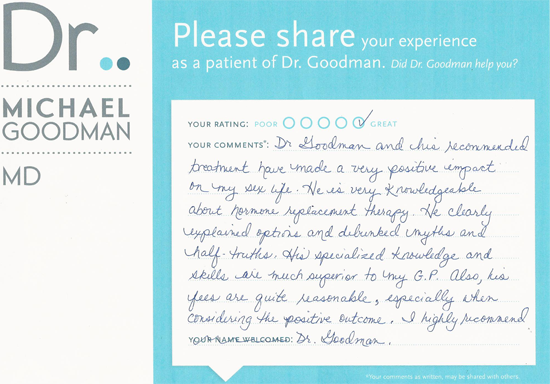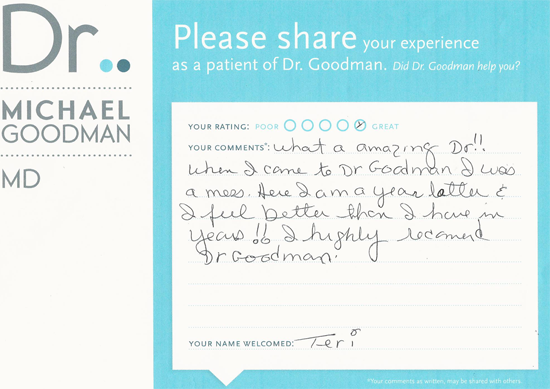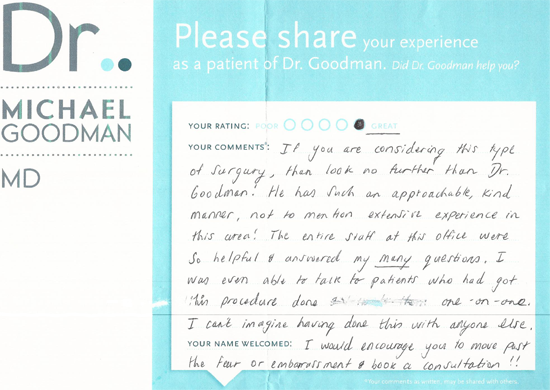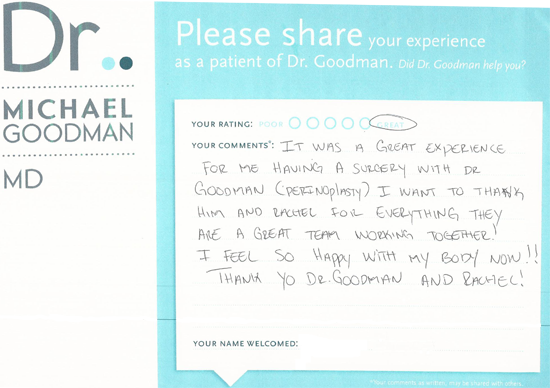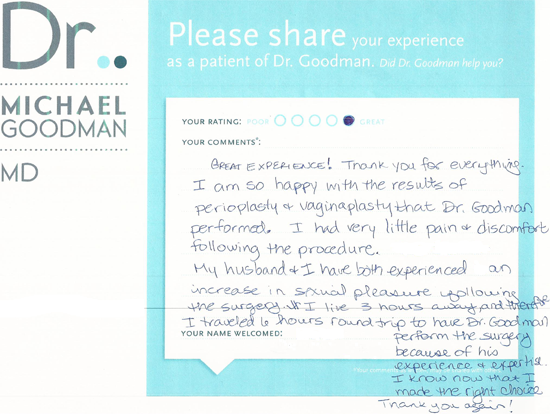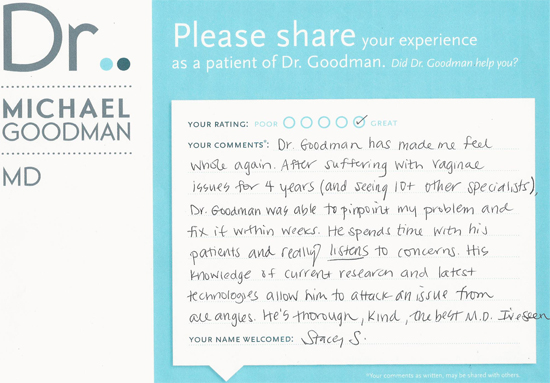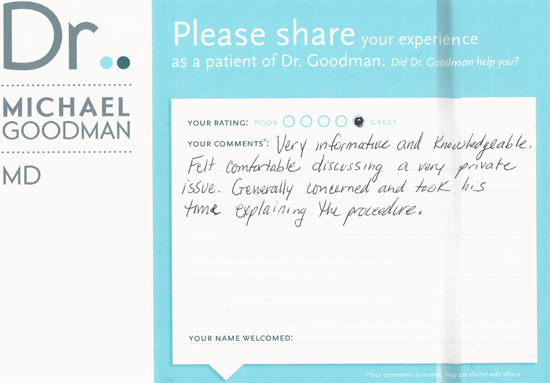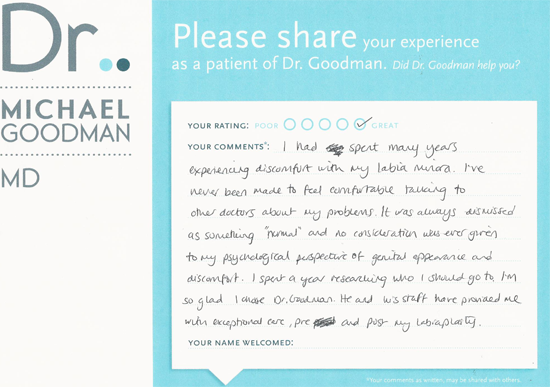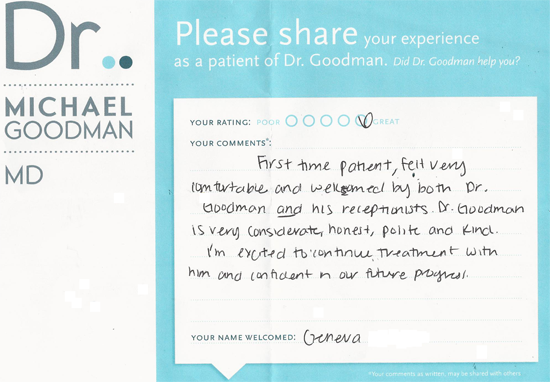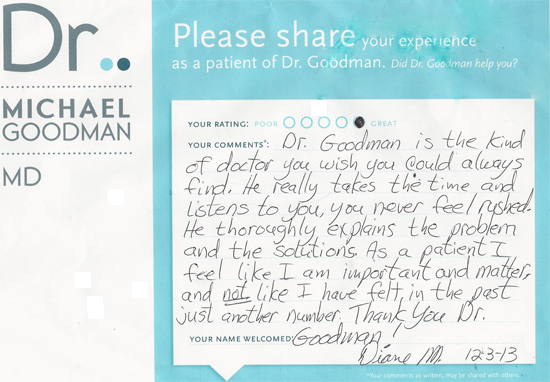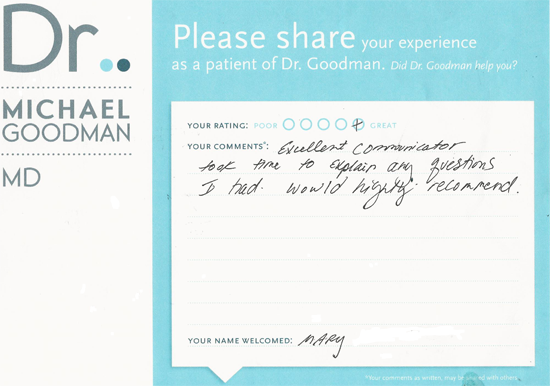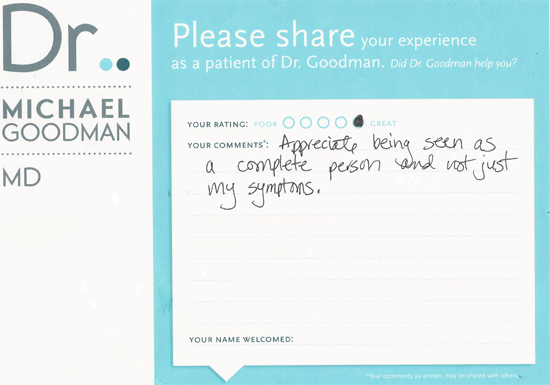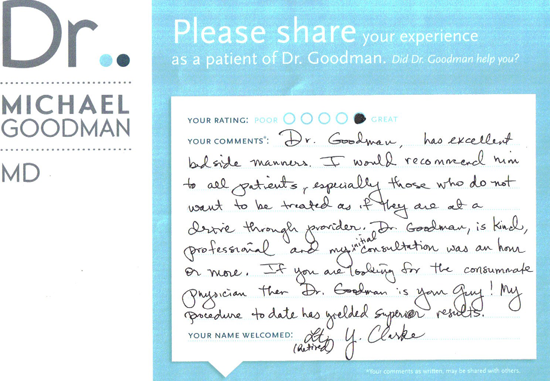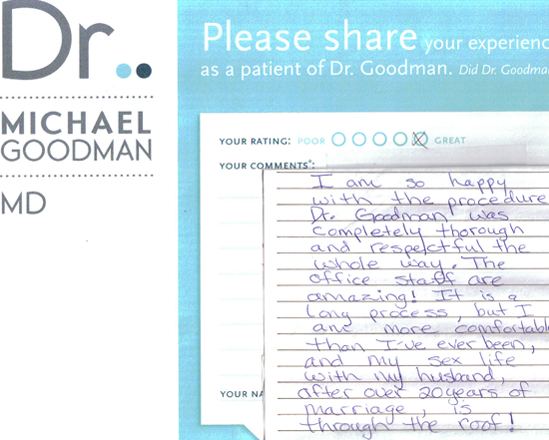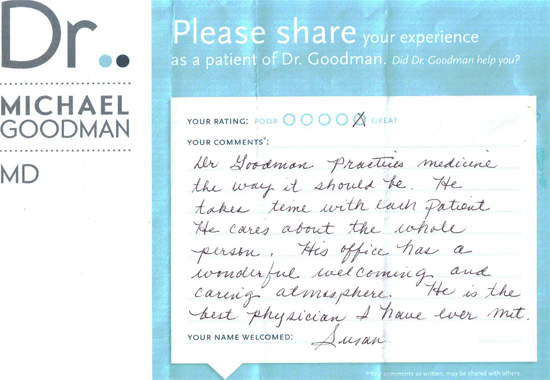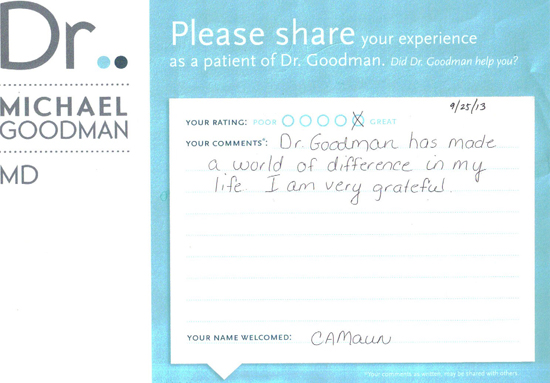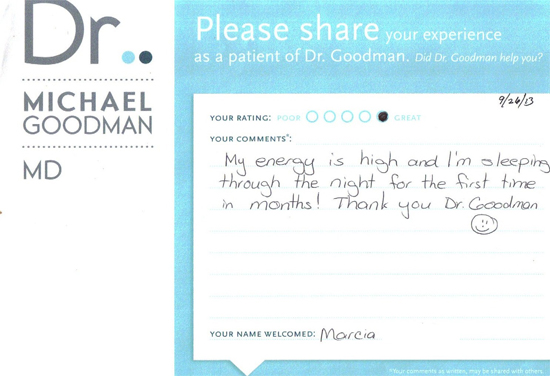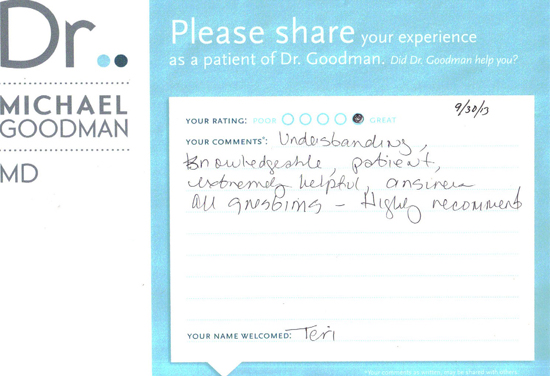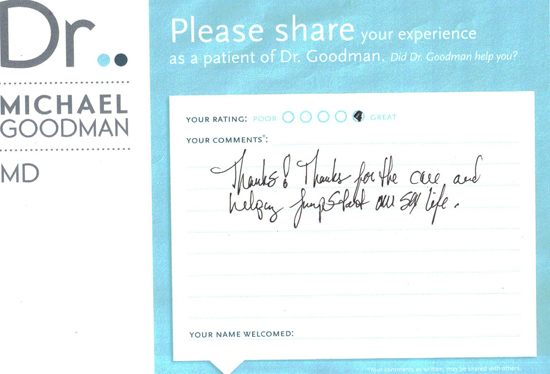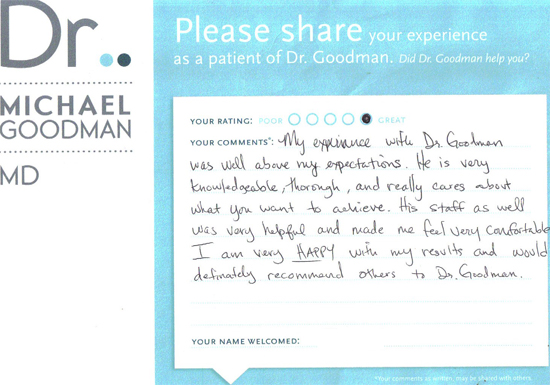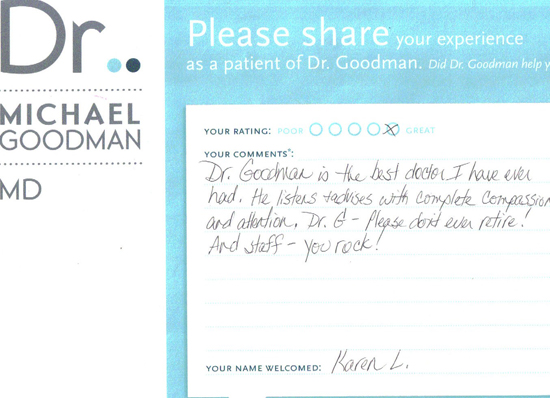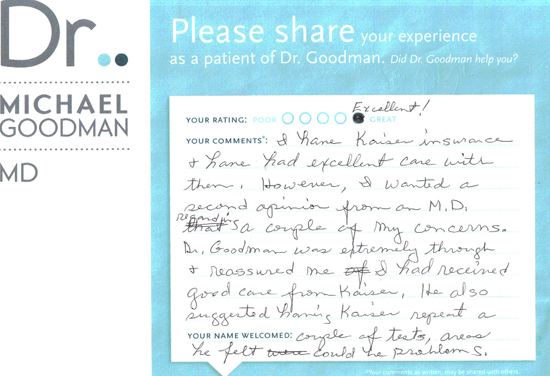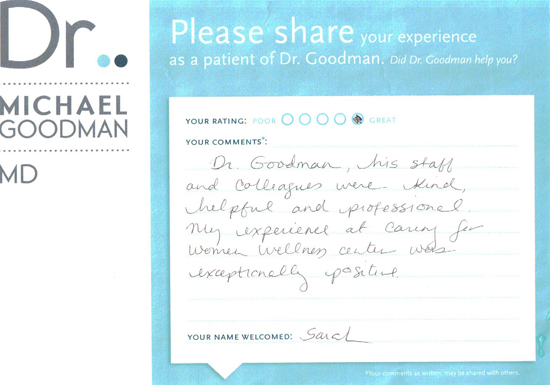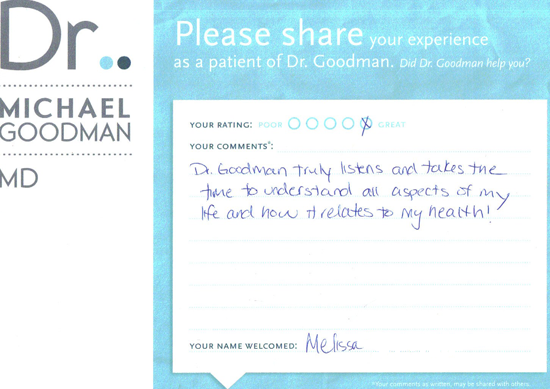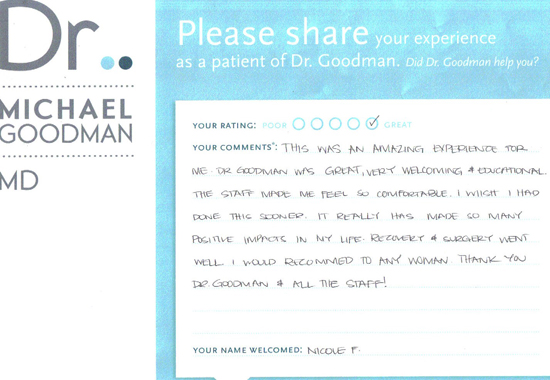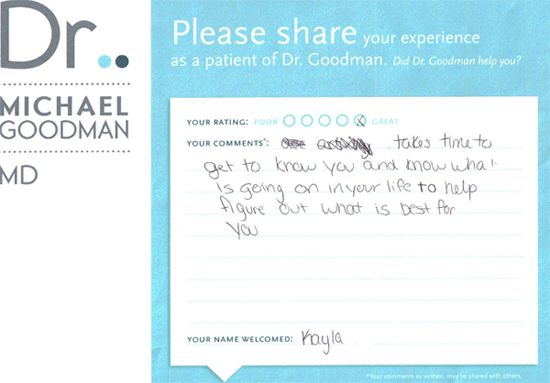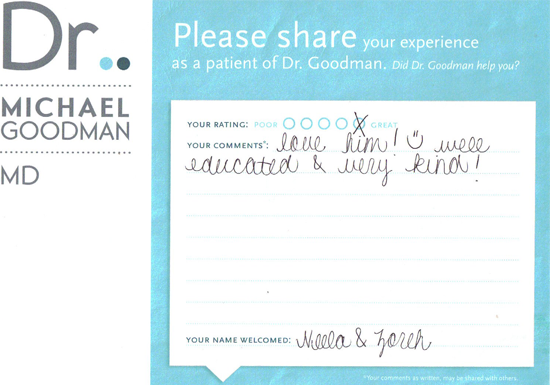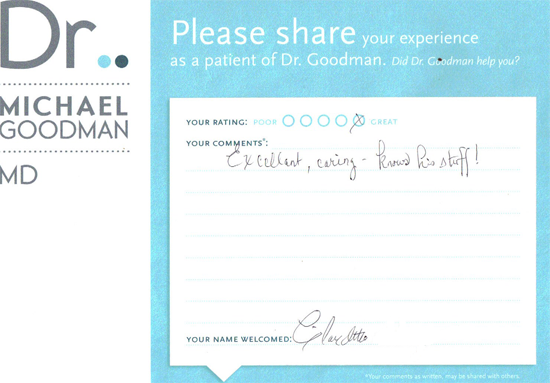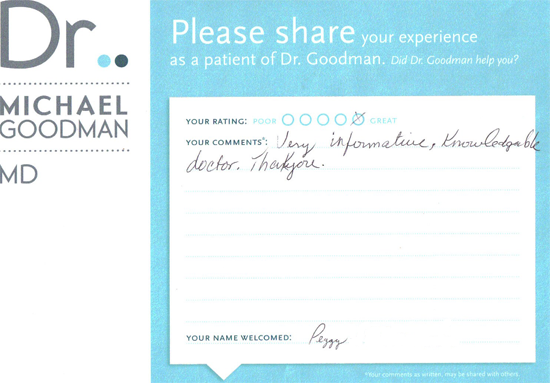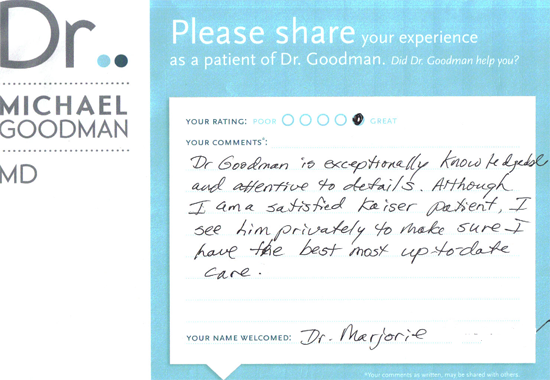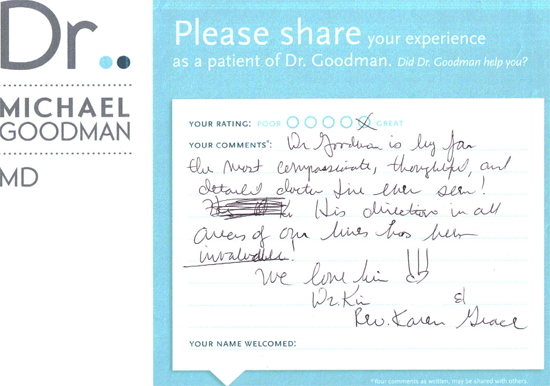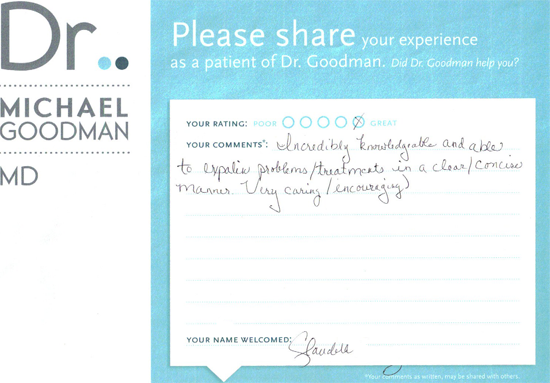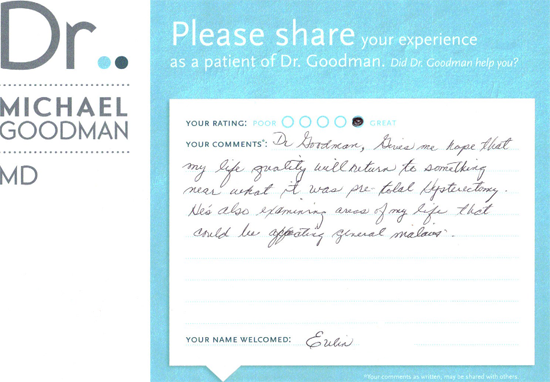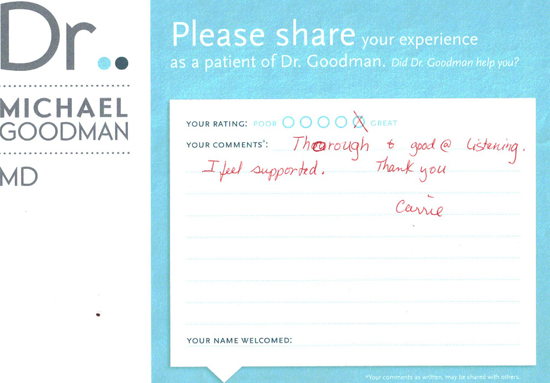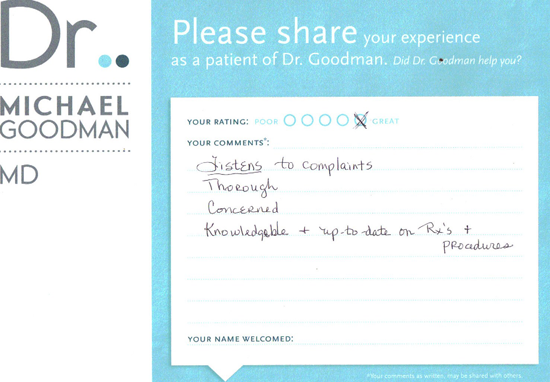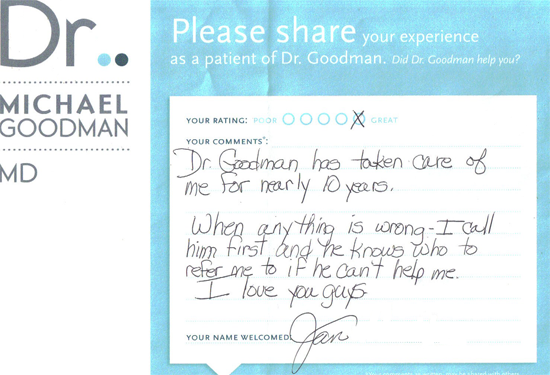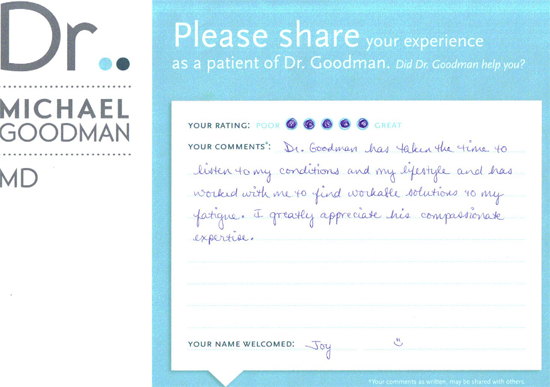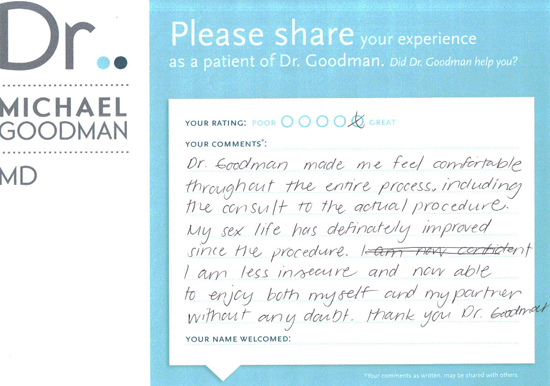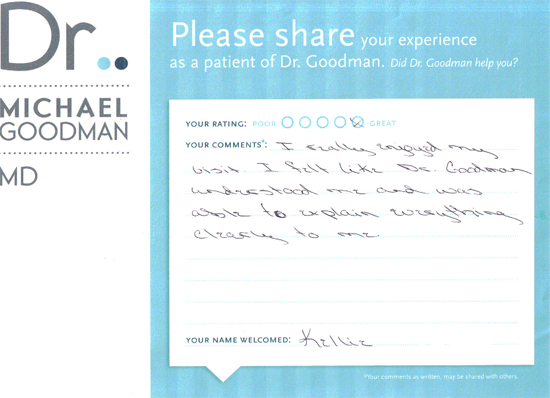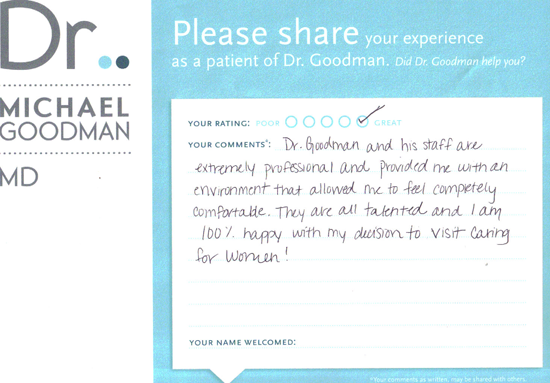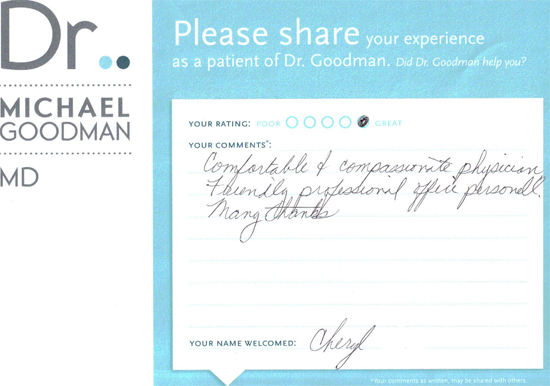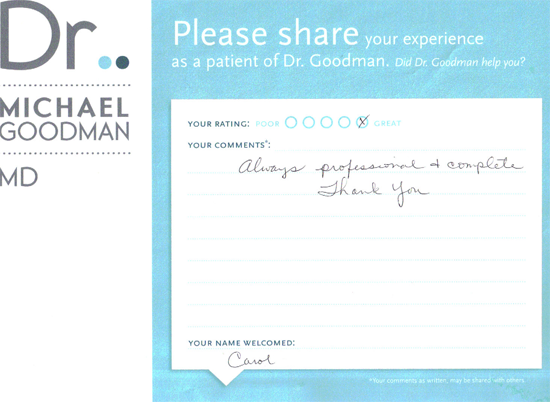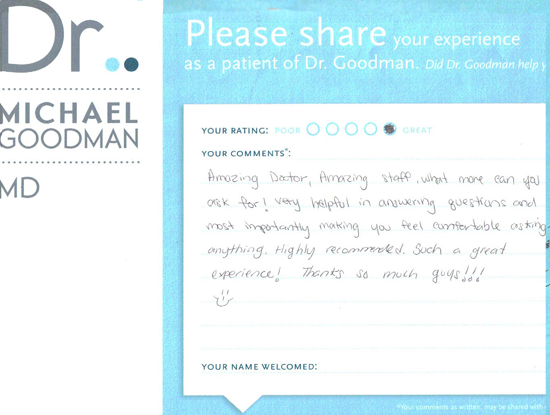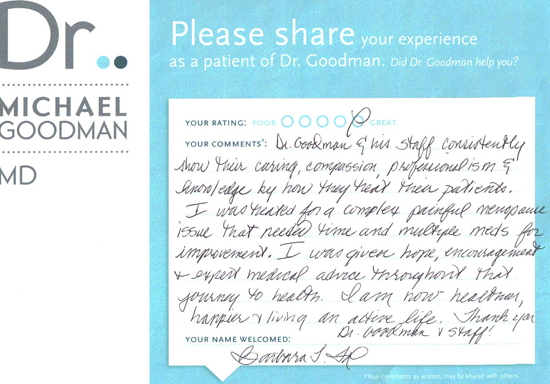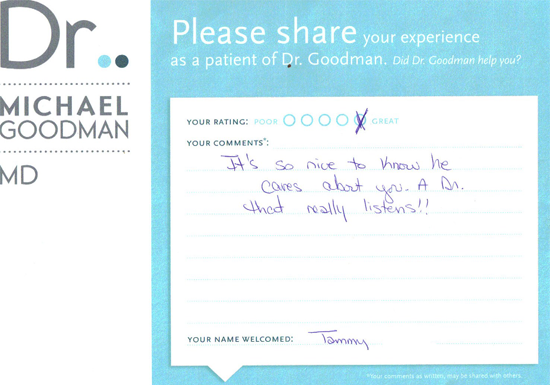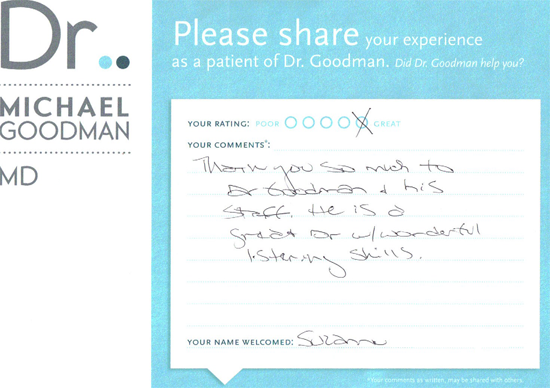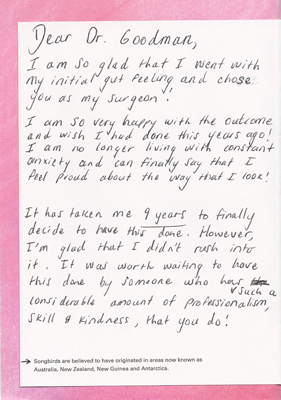 Hubby Wants to Send Flowers

This patient from abroad, who traveled 7,000 miles for her surgery, sent this follow-up note about 4-5 months post-op.

Dear Dr Goodman,

I promised to keep you posted and think you deserve to know, as do future patients. I usually am very introverted and private but I do think it's important you know and you deserve to hear of the good outcome. So here goes.

My hubby just said he wants to send Dr Goodman flowers. His enjoyment increased tremendously since the procedure, his orgasms are really longer, many times stronger and he finds it more difficult to hold it back (he always, ever since we met, had perfect control over his timing, so it's actually a disadvantage for me but so very flattering and satisfying by itself). He really loves both how things look and feel now.

As for me, I have control of my pelvic floor muscles and vaginal muscle again—no stress incontinence whatsoever anymore. Sexually, we have to learn things anew because it feels somewhat like a different organ. I do believe I have some unreversable nerve damage from the childbirths, it's not as easy as when I was pre-children nor as enjoyable but one can't expect to reverse time and damage completely. The bottom line is that my orgasms are stronger and many times the whole thing is more pleasurable. I think it will get even better as we learn the "new me" some more

Best wishes and my gratitude
Patient Testimonial: Menopausal Medicine Success Story

Dr. Goodman often receives letters and testimonials from patients whom he has helped through menopausal medicine, vulvovaginal aesthetic surgeries, or general peri-menopausal and sexual medicine. This letter is from a recent patient, sharing her life-changing experience with peri-menopausal treatment through Dr. Goodman.

Dr. Goodman:
I am writing to express my gratitude for the exemplary care I have received from you. I feel as though we have a MD/patient relationship like those of the past: before the Government and insurance companies determined treatment by expense versus patient needs. You and your competent and caring staff have dramatically enhanced my quality of life.

I am compelled to share my experience and hopefully prevent others from enduring the frustration I incurred. Years of being misdiagnosed, and therefore not properly treated, have resulted in extreme frustration, mistrust, wasted time and money. So I have chosen to simply tell my "story," enabling you to utilize my opinion in whatever forum you choose. I encourage you to use any part[s] of this in any way you desire.

MY HIGHWAY TO HORMONES DERAILED IN HELL

Read More of this Patient Story
Patient Testimonial: Success Story

Hello,

I had my labia minora surgery on June 13, 2011. I'm writing this blog not to show how much I appreciate Dr. Goodman's work (although I definitely do), but in the hopes of reaching out to women who may be debating whether they should have this procedure.

I am 21 years old and am currently attending SFSU, where walking about is a daily necessity. Having a larger labia minora became very irritating and painful. I believe an important concept to understand about your vagina is that in no exception should it hurt while doing any normal activity, such as walking. I had been struggling with the decision of whether to do this type of surgery for many years. I am a very active person who participates in many sports and has worked as a waitress for 5 years. By the end of my days, I would be in so much pain from my vagina that wearing jeans was unbearable.
It has been about two months since I had my labiaplasty surgery. Going to Dr. Goodman for this procedure was one of the best decisions I have ever made in my life. I feel a freedom that wasn't accessible to me before the surgery. I can go in the locker room and change and shower without trying to hide myself from other people. While it is true that all women are normal and every size labia is a normal size labia, the only women I have seen walking around naked and changing like it is no problem are the women whose labia aren't so exposed and in your face. I am not a person who usually opts for quick fixes as far as physical appearance goes. About five years ago I became really conscious of how lacking I was in muscle definition. I mean my legs were really flabby. Instead of getting lipo suction or some sort of surgical procedure, I began working out. My journey of strengthening my body has been amazing and I now, five years later, get to experience the world through a strong and flexible body that I created for myself through dedication and continual effort. But my labia were another story. No amount of exercise or conscious effort would have made my labia less out there and exposed. Even if I wasn't self-conscious about my labia, I would have been a spectacle for other women's scrutiny and comparison every time I took off my panties (if you are a women then you know how much we women compare and judge ourselves to other women). I felt that I had done my time with my large and exposed labia and was ready to have a new experience of my female parts. I am happy to say that in the past I made a few of my girlfriends feel better about their female parts by showing them mine. And while It felt good to help them raise their self-esteem, I also wanted to feel that same feeling and sense of relief. So after years of wishing I could be free of these large and exposed female parts, I took control of my life experience and used the resources available in the world to alter my life experience for what I believe to be the better. While I could have fully accepted the way I was down under and I could have had an enjoyable life of covering myself up and not taking my towel off in the steam room, that is really not what I wanted. After extensive online research, I chose Dr. Goodman and I knew he was the only one that I wanted to perform this intimate surgery. Because of this surgery and because of Dr. Goodman's skill and artistry, a part of me has been freed. What may have taken my entire life to come to grips with has been freed up in the few hours of surgery. I knew where I was at with myself and I used the tools available to me to free myself from the psychological burden of having larger and more exposed labia than all the other labia that I have seen. And I have gone to many nude beaches and hot springs and have seen many naked women. In my experience the women who feel confident and comfortable with their lady parts are the women whose labia aren't exposed and hanging out there for everyone to see. And now that I have joined this group of women, I too feel confident and comfortable with my lady parts. For the rest of my life I will have this freedom, this physical and psychological freedom. I couldn't be happier with my decision and am grateful that I found and used a tool (the surgery) to get me to this freedom.
From a Patient Follow Up Letter
Any problems with scheduling or office intake/outflow?
No problems with scheduling or office flow. I always enjoy being in the office. Rachel is very friendly and informative.

Were your questions/concerns addressed?
Yes, both Dr Goodman and Rachel answered my questions.

Any adverse experience(s) that we should be aware of?
No adverse experiences

How can we (in general or in particular) improve?
Friday appointments would be great but I can understand why you don't.

Any billing/financial problems?
No, billing problems. It's a shame you don't take insurance. However, the office is up front about not taking insurance and it's worth every penny so no complaints here.

What was the best part of your experience?
I feel like my body is stable, no hot flashes (unless I drink coffee and have dessert). I lost weight. I understand what is happening to me much better and am doing things to smooth my transition. No more brain fog. I'm much more in control.

Other comments?
I'm a fan!
From a Patient Follow Up Letter
Any problems with scheduling or office intake/outflow?
No problems at all.

Were your questions/concerns addressed?
Yes, they were addressed thoroughly.

Any adverse experience(s) that we should be aware of?
None, my experience was handled with gentleness, expertise and warmth.

How can we (in general or in particular) improve?
I wouldn't want to change a thing, I would fly half way around the world to come back again for this type of personalized service.

Any billing/financial problems?
No.

What was the best part of your experience?
The hope I was given that I can enjoy a fully satisfying sexual relationship with my husband again.

Other comments?
I am so very grateful that Caring For Women Wellness Center exists. For the hand-holding when I couldn't hold on myself. As well as for the frank and honest discussions I had with Dr Goodman.
First suggestion….don't be "humble", it sounds a bit pretentious. Other than that, all is great. Friendly and kind staff, no hassle with payments (not so far anyway), options and procedures explained fully and received follow up call to check on me after surgery. I work for a medical group which used to be smaller and "family-ish" when I started there in 1987. It has now grown into a much bigger, more "efficient" health care setting with EHR, centralised call in centre and follow up, etc. etc. This has it's advantages but makes everything much more impersonal. It was interesting going back into a small office setting such as "Caring for Women". Good for you for carrying on in the old style!
The entire experience was fantastic! I was met by a very warm welcome, helped right away! Dr. Goodman really listened, really wants to find all of the problems that may be causing the things that are going on. He is the first Dr. that ever just sat and really listened to everything that I have going on. Other physicians ask what hurts treat it and move on. Dr. Goodman truly cares and wants to understand the overall picture of a patients overall health. I truly has been an excellent start to my care.

Thank you Dr. Goodman and staff, before I went to visit you I really felt as though I had no hope of getting my health back to where I want it. I really have that hope restored thanks to you.
Dear Nicole and Dr. Goodman,

I wanted to say thank you for the help in getting my testosterone and other hormones balanced out. Over the last six months, I've felt better than I have in over twenty years. I have lots of energy and a new zest for life. I really appreciate all of your help.
Dr Goodman,

It will be two years since my surgery com March and I just want you to know having my surgery is the best thing I have done for myself.

Since I saw you last my husband passed away from his lung disease and my relationship wit Alex has blossomed. We were sweethearts when we were 16 years old and now we are enjoying life and because of my labiaplasty surgery enjoying the best sex of our lives.

At 62 years old I really feel like I'm 16 again!

Thank you so much.
Thank you for being such an observant, thorough doctor. I did stop the pills and the sleepiness is gone. Memory seems much better. Still use notes. I am myself thank God. I talked to (my doctor) and got that straightened out. Joan has not called yet, but she will. Again, Thank You. God Bless You. ~Becky
Dr. Goodman is a fabulous doctor. He listens, explains and follows thru with getting you the medical help you need. He spends "quality" time with his patients and ensures that anything that his patients need his staff can assist them. This office is a wealth of knowledge and makes it easy for me to return for my follow up care. Thanks! ~BJ
(Dr. Goodman) Spends lots of time with you so that when you leave you feel like all of your questions have been answered and concerns addressed. Great bedside manner.
I have been a patient of Dr. Goodman's for 6 years and have never had a problem. He has always answered my questions clearly and completely and always made me feel comfortable. I recommend him to all my friends and family. He is the only doctor I trust. Additionally his office staff is friendly and accommodating and make scheduling an appointment or getting a prescription easy. Thank You. ~SSJ
I had labiaplasty and vaginal rejuvenation in May of 2008. Before surgery, my vagina felt very loose and there was extra skin (labia) that rubbed and chaffed making me feel older than my 51 years. My husband and also Dr. Goodman assured me that I was normal… I decided to go ahead with the surgery and have never been happier. ~MB
So far I have been very pleased and am still in treatment. I already plan on making Dr. Goodman my primary gynecologist. All my questions have always been answered thoroughly. I feel like I am in good hands with Dr. Goodman. ~LS
Dr. Goodman really listens to his patients, which many doctors don't. He also uses supplements and other natural remedies in conjunction with Western medicine. I highly recommend him as a very progressive and wonderful, caring doctor. ~JS
Since being under your professional care and guidance, I do not fit into the category of Low sexual desire. With your support for Bill, a unifying caring experience in which both of us are working towards the same goal has been created. It has made an enormous difference in our intimacy and our marriage relationship. A BIG Thank you to YOU. ~PO
I wish that I knew about this [genital plastic surgery] years ago! I was dissatisfied with how I felt and looked for years. I am so much happier now. I had no idea a procedure even existed to help…Even though no one sees it [the results of surgery] it makes me feel better as a woman. I did it for myself, not my husband. …For me, not anyone else. I felt under no pressure…I can accept someone saying 'I don't understand why.' It's OK to not agree, but not '…You shouldn't do this…' It's my body- I can do what I want, but unless the person has walked in my shoes they have absolutely no right to make a pronouncement on what I should or should not do…I cannot thank you enough. You took the time to listen, were not judgmental, and [produced] the exact results I was hoping for!" ~RC June, 2011
It was so much easier than I thought it would be.  I was a little concerned about coming all the way up and having the surgery, but your office made it so easy. The hotel was perfect and in a great location (very close to restaurants)… Everyone at the office was so nice and answered all my questions it really put me at ease.
Hi, just wanted to drop a line to say you made my day :). Reading your Ten Best tips for surviving and blog has given me soooo much hope. I felt so identified and reading this made me happier than the lorazepam I've been given today to cope. Sadly I´m currently living in Spain where "(Peri)Menopause" is taboo, no one wants to talk about it, women hide during this transition and doctors just prescribe tibolone because it has been used for years and works! All without explaining anything, not even what it is doing to your body or a simple chat to make your relax and understand this rollercoster some of us go through. I wish your surgery were closer and hope to get the right treatment when I am back in the uk. If not I´ll have to fly over!
Thank you again for showing some light and the end of the tunnel
My parter is also grateful for the tips!