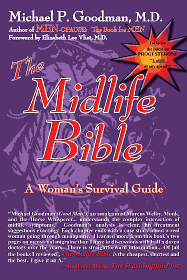 Originally published in 2004 and newly updated, this very useful and eminently readable edition comes from the insight and knowledge of a communicator with 35 years experience in the practice of obstetrics, gynecology and perimenopausal medicine. It comes from the author's working relationship with "Western Medicine", alternative approaches and a deep respect for the individual's intelligence, autonomy, and right to fashion her own therapy.
"The Midlife Bible" is filled with positive energy and helpful solutions for everyone. There are no "rights or wrongs" in this easily readable little text; only the pragmatic philosophy that there is a solution – a "correct fit" for everyone.
It is more complete and up-to-date than any other lay edition available, covering not only perimenopause, menopause and hormones, but also PMS, bleeding problems, and all available alternative therapies. It fully covers all of the benefits and risks of hormone therapy, new data showing the positive effects of hormone therapy, and also explores new information on pros and cons of progesterone. It offers honest information about breast cancer, and includes an open discussion of sexuality and midlife enjoyment, bone density, pelvic support issues, fatigue syndromes and the dilemma of childlessness at midlife. It acknowledges the many different situations of midlife and acts as a guide for individualized decision making. "The Midlife Bible" empowers women in dealing with the "managed care maze" and concludes with an appealing chapter on what's "new and juicy" on the medical horizon.
Dr. Goodman is an expert in listening to women and from this experience and expertise has fashioned a very useful, very readable, and very complete little gem.
 What the Reviews are saying:
"Michael Goodman (Good Man!), an amalgam of Marcus Welby, Monk, and the Horse Whisperer… understands the complex interaction of midlife symptoms. Goodman's analysis is clear, his treatment suggestions exacting. Each chapter ends with a case study about a real woman going through menopause. I learned more from this book's two pages on menstrual migraine than I have in discussions with half a dozen doctors over the years. There is straightforeward information… Of [all the books I reviewed], "The Midlife Bible" is the cheapest, shortest and the best. I give it an "A."  
  — Stephanie Weiss, The Washington Post
"Dr. Goodman has done every midlife woman a favor in writing this book. His honest, comprehensive look at the health care options available will save you time, energy and money. All of that and it's actually an enjoyable read! Dr. Goodman writes with a baby boomer's sensibility that is honest, funny and informative. You'll wish he was your doctor and want to hang out with him at the same time!" 
— Nancy Alspaugh and Marilyn Kentz authors of "Not Your Mother's Midlife: A Ten Step Guide to Fearless Aging"
"Ladies, share this book with your husband, your friends, and especially your doctor! Dr. Michael Goodman has done a wonderful job in transforming hormone havoc…from PMS, Perimenopause, Menopause and beyond…into an empowering and healing experience.  The Midlife Bible really deserves a place on everybody's book shelf and library in the country."
— Ann Louise Gittleman author of "Before the Change" and "The Fat Flush Plan"
"Michael P. Goodman is a medical doctor with over 33 years experience… The Midlife Bible covers what may seem to be (especially to women dealing with this) a plethora of conditions women experience during midlife. Dr. Goodman offers alternative approaches and just plain old common sense advice… telling women of this age, "you are not alone." The cartoons interspersed throughout the book are not only humerous but sensitive to women… This is one book that would make a valuable addition to any family's home, to be read and discussed not only by women with their medical practitioners, but with their husbands or important others, understanding what is going on with their bodies and becoming more aware of what is available to them in terms of treatment."
— Midwest Book Review
"Dr. Goodman does an excellent job of combining Western and complementary medical approaches in order to help guide women through this sometimes difficult time of life. Avoiding any medical agenda, he explains what is known, and not known, and offers a healthy dose of good sense. This book is well written, easy to understand, and will be an excellent resource for women approaching, or in the midst of, midlife."
— William H. Parker, MD author of "The Incontinence Solution" and "A Gynecologist's Second Opinion"
Table of Contents: Chapters
THE FLOW THROUGH MIDLIFE: "Riding the Wave" Defining the Issues: Health Care Through Midlife; PMS; Irregular Bleeding; the Perimenopausal Roller Coaster; What Is Menopause Anyway?; ERT/HRT/Testosterone/Herbs, Botanicals, and Supplements; Sexuality Issues; Partnership Issues.
ONE SIZE DOES NOT FIT ALL!: Finding the "Right Fit"; Dealing with Your Health Care Provider and Your Health Plan.
PMS/PMDD
BLEEDING PROBLEMS: "But I Used to Be Regular…"
THE PERI-MENOPAUSE: "All over the Map"
"TO HORMONE OR NOT TO HORMONE" (…That Is the Question…)
COMPLEMENTARY AND ALTERNATIVE MEDICINE (CAM): HERBS, BOTANICALS, SUPPLEMENTS, NON-HORMONAL AGENTS, AND MORE: "Alternatives… Alternatives… Alternatives…"
SEX!?: "I Could Care less…(And I'm Dry to Boot!)" Relationship issues, the roles of hormones (estrogen and testosterone), desire and orgasm, treatment protocols
BREAST CANCER AND HORMONES: Not as Scary as You Thought!
BONE DENSITY ISSUES: (Also Called Osteoporosis)
HEALTH!!: The Heart, Diabetes, Cancer, Lipids; The Exercise Connection; "Living Well into Later Life…"
MENOPAUSE AND AFTER: "Do I Have to Be on this Stuff Forever?"
THE STRESS CONNECTION: Immunologic Health and the Placebo Effect; How stress affects everything – and what to do.
VULVAR PAIN SYNDROMES: "It Just Hurts…"
YOUR PELVIC FLOOR: Urinary incontinence and other things that fall out.
BIG ODDS AND ENDS: IBS, Chronic Fatigue, Fibromyalgia, Interstitial Cystitis, TMJ, Midlife Mood Disorders, HRT after Cancer Therapy, etc.
MIDLIFE AND CHILDLESS: By Choice and By Chance
THE FUTURE: The Horizon and Beyond – New Compounds and Delivery Systems
THE LAST CHAPTER: Understanding Yourself, Finding the Right Doctor (including Counselors and Therapists) – Living Well with What You've Got
RESOURCES: (Where to go until the Doctor Comes)
"The Midlife Bible- A Woman's Survival Guide" is available at Amazon