Prep time: 30-40 minutes
Cooking time: ~ 1.5 hours
Leftover potential: You betcha!!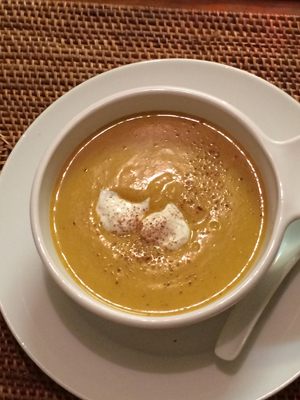 Ingredients:
*Note: you can make this recipe as big or small as you wish, depending on the number and size of the squash. My feeling is, if you're going to make it, it is little additional work to make a lot. This keeps in the refrigerator for a week or more, and freezes quite well. This recipe takes 2 large, or 3 medium squash, and makes about 8-10 servings, but you can make it bigger to freeze.
2 large or 3 medium-sized butternut squash
3-5 shallots or 2 medium sized onions or combination
Enough oil (about 3 tbsp.) to sauté shallots/onions. Your choice oil.
Butter and light cooking oil (walnut is nice, but canola or safflower may be substituted) to brush on the squashes while par-baking.
Spices: salt, pepper, fresh grated or ground nutmeg, yellow curry powder (may substitute turmeric), Chinese 5-spice is nice if you have it, cinnamon if you like it and want that flavor. Vanilla extract is a nice touch. Zamouri Spices' (www.zamourispices.com) Ras el Hanout Moroccan Spice Blend is a wonderful blend for this soup, in fact you can do this recipe with this alone. Be inventive! It's fun to mix 'n match!
2% low-fat milk (can substitute 1%, or whole milk)
Non-dairy creamer (like vanilla, Baileys™, caramel, hazelnut, etc.: your choice)
8. Chicken broth
Implements:
Baking dish(es) sufficient to hold cut-in-half squash segments for the initial bake
Stock pot or large pot enough to accommodate about 1.5 gallon liquid
Large spoon (Ice cream scooper works great) to scoop out squash
Blender (can use a food processor, but blender is easier, pours better)
1-2 quart size(+) storage containers for leftovers
Instructions:
Preheat oven to 375
Cut squashes in half lengthwise. A good way is to start by inserting the blade of a large sturdy chef's knife, cook's knife or cleaver horizontally, bisecting the squash starting at the stem end and advancing the knife downwards to the base. Hint: a hammer can be utilized to lightly tap the back of the sharp end while holding the handle as you slice down.
Set the squash in baking dishes, cut side up, with an inch of water in each dish. Brush a mixture of about ½ cup butter/oil (I use 75% oil; 25% melted butter) whisked with spices (I'd recommend 1 tsp Moroccan spice mix & 1 tsp curry here) onto the edges and inside the squashes. Put into oven to bake ~ 1 hour @ 375.
Put stockpot on low heat, add ~3 Tbsp. oil, dice shallots and/or onions, put into oil, add ~ ¼ tsp pepper and ~ 1 tsp yellow curry or turmeric. Gently sauté shallots/onions until soft and glistening & set aside.
When Squash cooked, allow to cool for 10 min and scoop out (be aggressive!) into stockpot and add 2-3 cups of chicken broth (depends on how thick you want it) and ~ ½ tsp ground nutmeg and ~ ½ tsp vanilla extract and an additional ~ ½-1 tsp Moroccan Spice Blend (or curry & Chinese 5-spice…). Cook medium heat ~ 10 minutes until squash is soft, unless it's soft enough from the bake.
Put the squash mixture into a blender (you'll need to do this in batches) and blend ~ half-minute until smooth. You'll need an extra pot or large storage container to hold the pureed mixture until you're all done & can transfer it back into the stockpot.
Put back into stock pot. Add ~ 1-2 cups milk and ~ ½ cup creamer to taste. **The creamer, along with the Moroccan Spice Bled are the "secret ingredients") Salt & pepper to taste. Adjust seasoning as you wish.
Serve with a dollop of sour cream and fresh ground nutmeg if you have it, or ground nutmeg, a sprig of parsley, etc. Stores well in refrigerator; freezes well for winter use!

*Note: This is a "sweet 'n savory" recipe. To make it less sweet, cut down on the creamer.