Genital Plastic/Cosmetic Surgery: Outpatient Procedure Provides Life Transformation for Young Woman
---
WARNING: The following text contains explicit imagery of female genitalia. Do not continue if you do not wish to see these images. This page should also not be viewed by those persons under the age of 18.
---
All I knew about the patient I was about to see were the few cryptic words typed on my daily schedule: "Danielle Wallace*; LP consult."
When I went out into our patient lounge to greet the patient, I discovered Danielle was a 20-year-old college student from UCLA accompanied by her mother who, as I was about to discover, had only recently been informed by her daughter as to the reason for her visit.
Keeping sexual experiences and concerns private from one's parents is the rule in my experience, so I was not surprised when Danielle told me her tale, and the fact that it was only recently that she, in a teary confession, had poured out her feelings and insecurities to her mom. Her mom had been initially flabbergasted, then skeptical, and as she began to understand the depth of her daughter's concern, quite supportive.
Desperate for Comfort and a More Natural Appearance
Danielle had been sexually active for almost three years but felt unable to fully express herself secondary to, as she described it, her self-consciousness over
"being so big down there" (or "well-endowed," as we say in our office). Sex needed to be in the dark ("don't look at me") and although she enjoyed it, she rarely permitted her boyfriend Ryan to enjoy oral sex with her. Ryan was aware that Danielle was self-conscious about the size of her genitals, especially the "extra flesh over my clitoris." According to Danielle, it didn't particularly bother her boyfriend: "He says he loves me as I am, I know, but all I know is- what I have I don't like!"
"I feel so large. I feel unattractive. I know it doesn't bother Ryan, but it does bother me. I have to 'rearrange' my lips when I wear jeans, and I get so chafed I've stopped riding my bike to classes. I can't even wear thongs for fear that something will bulge out!"
Danielle went on to say that she had since puberty noticed the "extra flesh," but that it wasn't until high school, talking with her friends and perusing online social sharing sites that she realized she was "larger" than her peers, and that something could be done about it.
I inquired about Danielle's sexual life. She enjoyed sexual intimacy (except for being very self-conscious), became appropriately aroused, and was frequently orgasmic. She offered no history of physical, verbal, or sexual abuse.
Patient Examination
Examination (see photo) revealed robust-sized labia minora flowing from quite generously sized prepucial and clitoral hood folds. The labia minora fused posteriorly below the introitus via a modestly hypertrophied posterior commisure.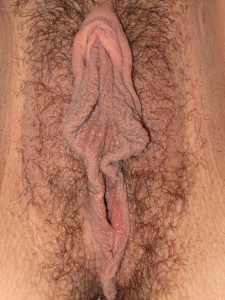 Danielle told me she just wanted to be less fleshy, less "flappy" all over, including hood, labia, and commisure. She didn't want to "look like a Barbie doll," although she was acquainted with a girl (also a patient of mine, as it turned out) who had a "Barbie Doll" look and was very happy with it. "I just want the extra flesh off, but I want it to look natural," was how she put it.
We poured over dozens of "before and after" photos from my practice—each with different "looks" depending on the anatomy and whether I utilized a "sculpted linear resection" or "modified V-wedge" surgical technique. She commented that this was what had drawn her to my office rather than to surgeons who were geographically closer to her but who only used one technique and whose post-op photos "all looked alike."
After one hour of examination and consultation, answering questions and negotiating the exact procedure and "look" she wished, a tentative surgical date was set during her spring break. I told her I would like to see her again prior to surgery to ensure she was making the right decision and to review her cosmetic desires and concerns, and also to make certain we were on the same page.  Danielle was comfortable with the idea of a local anesthetic, allowing for an office procedure and significant financial savings.
Procedure Produces Life-Changing Results
Her surgery was performed on April 2, 2009. I saw her for her first post-op visit one week later and again during her summer vacation. Her post-op photo is shown below. A short time later I received the following note from Danielle. I think it speaks for itself.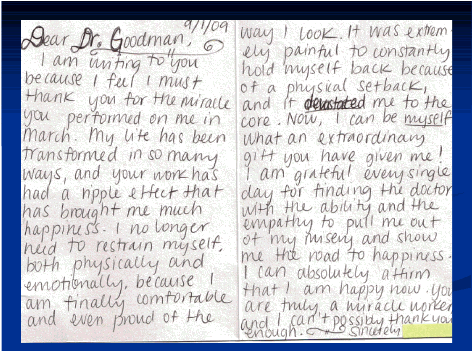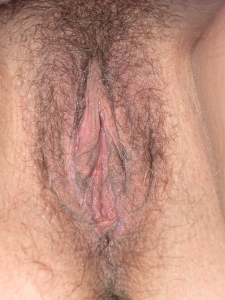 For more information about vulva-vaginal aesthetics, including labiaplasty in California and other areas, visit www.drmichaelgoodman.com.
* Patient name changed to protect privacy.