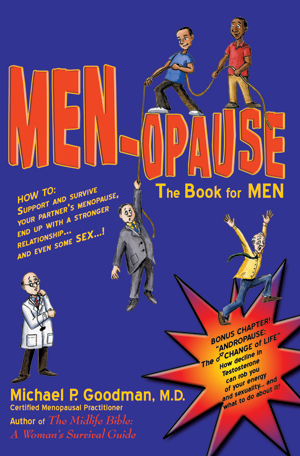 Finally!  A first!  A book on menopause for men! 
Author Dr. Michael Goodman shows men how to support and survive their partner's menopause, improve sexual intimacy and end up with a stronger relationship.
"MEN-opause…" is the first concise and readable book for men about menopause.  In clear and humerus language, your husband or partner can review what you are going through, why and what is available to help. 
It will enable him to "survive the storm" and offer him a safe harbor, so that he can better help you, know what not to do and when to back off and give you space. 
It is only 80 pages, and can be read during 3-4 satisfying trips to the john! 
"MEN-opause" is a book women can buy for their husbands to alleviate the peri-menopausal woman's valid complaint: "If he only knew what I am going through".  It also offers needed and usable advice on how to reclaim you all-but-moribund sex life. 
AND – a bonus chapter on "Andropause" – how low testosterone can affect his energy, erections and joie d'vivre – and what to do about it. 
Table of Contents:
What's Going On Here?
How Does It Effect Her?
What's Available To Help?
What Happened To Sex??
How To Be Useful – And What To Do when Nothing Will Help.
Andropause – The Male Change Of Life.
From Here To Eternity – The Places You Go From Here.
 Samples from Chapter 5:
"How to be Useful- and What to do When Nothing Will Help…"
USEFUL: 1) Give her lots of space. 2) Tell her you love her. 3) Support her. 4) Ask yourself what you can do to reduce her stress and anxiety. Then Do It! 5) Encourage her to exercise, but be careful how you do it. By example is good– encouraging her to join in. 6) Tell her often how good she looks. 7) Help her with memory issues. Don't keep reminding her that her memory is bad. She knows… she knows. 8 ) Draw her a hot bath. There must be quite a few things that a hot bath won't cure, but I don't know many of them. 9) Buy a dual- control electric blanket so that you both will be comfortable. 10) Just…listen… It takes a great man to be a good listener. ….and MANY MORE..!!
NOT USEFUL: 1) Telling her how good she looks when both of you know she is NOT really looking good. 2) When you think you are right, reminding her how bad her memory is. 3) Getting into an arguement at night. She has enough trouble sleeping as it is. 4) Any lecturing whatsoever. That's about as helpful as throwing a drowning woman both ends of the rope! 5) Giving up on sex. Gently encourage her. Take the initiative. Have lubrication handy. 6) And remember, a person can take only so much comforting. …and many more…